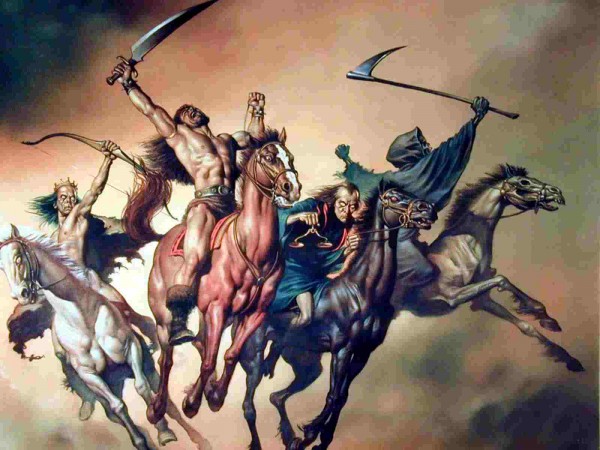 2009 was truly a year when we saw the pace of the fulfillment of Bible prophecy really begin to pick up speed and accelerate.  The creation of a Palestinian state almost seems like a foregone conclusion now, and yet the next major war in the Middle East seems closer than ever.  Iran has continued to relentlessly pursue the development of a nuclear program even as Israel and the United States continue to insist that they will never allow Iran to have nuclear weapons.  Preparations for the rebuilding of the Jewish Temple have intensified and the developing world government continued to emerge this past year.  Not only that, but the decline of Biblical Christianity in both Europe and the United States  rolls on with no apparent end in sight.  So what does all of this mean for 2010?  It means that we had all better buckle up, because things are going to get very interesting very quickly.
But for today we thought that we would take a look back at some of the most important news stories from this past year.  The following are the 18 most significant stories posted on The Last Days during 2009….
#1) The Sacrificial Altar Is Being Rebuilt For The Future Temple In Jerusalem
#2) The Radical Population Control And Eugenics Agenda Of The Global Elite
#3) Why Israel Simply Cannot Allow Iran To Have A Nuclear Weapon
#4) The Temple Institute In Jerusalem Has Spent Approximately 27 Million Dollars On Preparations For The Rebuilding Of The Jewish Temple
#5) Iranian President Mahmoud Ahmadinejad Says That The United States Is Attempting To Block The Arrival Of The Mahdi
#6) Europe Rides The Beast: Official EU Symbols Tell Us Exactly What The Global Elite Plan To Do To Humanity
#7) Iran Has Successfully Tested A Long Range Missile And Is Closer To Producing Nuclear Weapons Than Ever
#8) The Equality Bill: Will A New Law Essentially Outlaw Evangelical Christianity And Roman Catholicism In The U.K.?
#9) Israeli Prime Minister Benjamin Netanyahu Endorses An Independent Palestinian State
#10) Hezbollah Has Stockpiled 40,000 Rockets Near Israel's Border And They Have Now Acquired Chemical Warheads
#11) A Plan For Jews And Muslims To Share The Temple Mount?
#12) The Bezichin: The Temple Institute Unveils Two Golden Censors For The Coming Rebuilt Jewish Temple
#13) Pope Benedict: We Need A World Government
#14) A Play Depicting Jesus As A Gay Man Performed At A Packed Church In California
#16) The First President Of Europe, Herman Van Rompuy, Is Calling For A European Tax And Has Declared 2009 To Be The First Year Of Global Governance
#17) The Decline Of Christianity In America
#18) Will The Messianic Expectations Of All Major World Religions Pave The Way For Antichrist?
*****
Sponsored Comment:
Biblical scholars have long sought an answer to the question: What does the Bible say about America in prophecy?