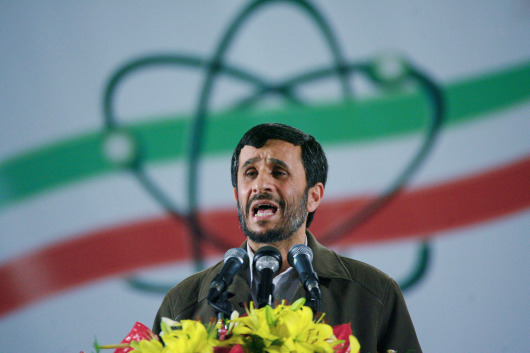 The Scriptures tell us that in the last days there will be wars and rumors of wars, and that is certainly true of the times that we are living in today.  Iran's nuclear program continues to advance, and world leaders around the globe are becoming increasingly alarmed.  In fact, even Russian President Dmitry Medvedev is now warning that Iran is close to having the potential to build a nuclear weapon.  For years, Russia has been one of Iran's most vigorous defenders on the world scene, but now even the Russian government is expressing reservations about what is going on in that country.  That should set off alarm bells for all of us.
Not only that, but now even Arab nations are expressing concern about Iran's nuclear program.  For example, the United Arab Emirates ambassador to the United States recently said that it would be extremely difficult for his nation to coexist with a nuclear Iran and that it would support any actions the U.S. took to prevent such a possibility.
The UAE would support a U.S. military strike on Iran?
Yes, you read that correctly.
It is even being reported that both Egypt and Jordan are growing increasingly concerned with Iran's nuclear program.
It looks like Iran is running out of friends.
But Iran continues to recklessly push forward with their nuclear ambitions.
Just this past week, Iran announced that the Bushehr nuclear power plant would be ready for operation in just two months.
But does being able to produce nuclear power mean that Iran is also planning to develop nuclear weapons?
The truth is that we all know the answer to that question.
In fact, a former of Iran's Revolutionary Guard who relayed its secret operations to the CIA for 10 years says that Iran will commit the "most horrendous suicide bombing in human history" if it is not stopped from developing nuclear weapons.
So who is going to stop them?
The United States?
That seems quite likely as long as Barack Obama is running things.
Israel?
Perhaps.
For now, Israel has been trying to talk peace with the Palestinians, but they are also preparing for war.
The world has certainly been trying to push Israel and the Palestinians to the negotiating table, and Israeli Prime Minister Benjamin Netanyahu has expressed interest in sitting down with them.  Netanyahu says that he believes that direct talks with the Palestinians will begin very soon and he recently predicted that they will be "very, very tough".
But on another occasion recently, Netanyahu said that he does not envision actually reaching a negotiated Middle East peace settlement within the next two years, despite his Palestinian counterpart's declared intentions to set up infrastructure for a state by 2011.
So it looks like Netanyahu expects peace talks with the Palestinians to begin soon, but he is not anticipating that they will bear any fruit in the foreseeable future.
Not that any of the other "peace agreements" with the Palestinians have ever worked out.
In the end, war always ends up breaking out again.
And war tensions are certainly on the rise in the region once again.
Debka is reporting that 20,000 Hezbollah troops have advanced and are dug into 160 new positions in South Lebanon.  Israel is believed to be "preparing something" for Lebanon and Hezbollah is on high alert to prevent it, unnamed sources in the group were quoted by London-based newspaper Al-Sharq Al-Awsat as saying recently.
In addition, according to the Palestinian Authority daily newspaper Al-Hayat al-Jadida, Palestinian Authority Chairman Mahmoud Abbas recently told Arab leaders that the PA is ready to wage war on Israel if the rest of the Arab world does.  The following is what Abbas reportedly told them….
"If you want war, and if all of you will fight Israel, we are in favor.  But the Palestinians will not fight alone because they don't have the ability to do it."
To the world media, Abbas talks about peace, peace, peace, but to his fellow Arab leaders he says that the Palestinian Authority is ready for war with Israel.
What a hypocrite.
The truth is that even if a "peace agreement" is reached, and even if a "Palestinian state" is created, more wars in the Middle East are inevitable.
These are the last days, and wars are going to continue until the end.  The only time that there is going to be true peace is after the King of Kings, the Messiah, returns to this earth and sets up His kingdom in Jerusalem.