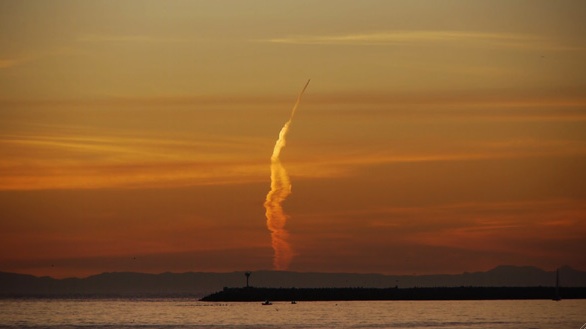 On Monday night, a "mystery missile" streaked across the sky just off the Southern California coast, and at this point the U.S. military still has no official explanation for it.  The "mystery missile" was caught on video by a local television station's helicopter camera, and the images are absolutely stunning.  The trail left behind by the missile was visible from the city of Los Angeles, and the helicopter crew that took the video estimated that the missile's location was approximately 35 miles out to sea north of Catalina Island.  So where in the world did this mystery missile off the Southern California coast come from?
At this point, nobody seems to know.  The Pentagon says that the U.S. military did not have any missile tests planned and that they do not know who fired the missile at this point.  Some are speculating that it could be the work of an amateur.  Others are claiming that it could just be an optical illusion.
Still others think that it might have been the work of a foreign nation.  For example, Robert Ellsworth, a former deputy secretary of defense and ambassador to NATO, is speculating that perhaps an Asian power is responsible….
"It could be a test firing of an intercontinental ballistic missile from a submarine to demonstrate, mainly to Asia, that we can do that."
A video news report about this mystery missile is posted below….
Eventually, the U.S. military will either tell us what this mystery missile over Southern California really was or they will make up a really good cover story.
In any event, all of this is rather unsettling.
The truth is that many believe that this is exactly the type of attack that is going to take down the United States in the last days.
Many, many, many people have had visions of Russian subs just off the coast striking U.S. cities with nuclear missiles in the future.
So is such a thing possible?
Yes, very much so.
Once Russia and/or China decide that war with the United States is inevitable, they will want to get in as devastating a first strike as possible before we can respond.
The very best way to do this is with submarines.
The reality is that Russia's next generation subs are so incredibly quiet that they can creep all the way up to U.S. coastlines without even being detected most of the time.
For example, the U.S. military was very surprised a while back to learn that two Russian nuclear submarines had been patrolling off the east coast of the United States.  According to news reports, two Akula class nuclear-powered submarines were lurking in international waters just 200 miles of the U.S. coast.
So did a sub from a foreign power test how close it could get to the coast of California and fire off a missile without being detected?
Maybe.
Maybe not.
In any event, this is something that a lot of people are convinced is coming in the future.
If Russian subs did sneak up to 30 miles off the California coast, they could literally be raining down nuclear missiles on U.S. cities in as little as five minutes.
That would not leave us a whole lot of time to respond at all.
So what do you think about this "mystery missile" off the California coast?
Do you think that this type of thing is a real danger?
Do you think that someday submarines could pop up off the coast and rain down nukes on all of us?
Please feel free to leave a comment with your opinion….