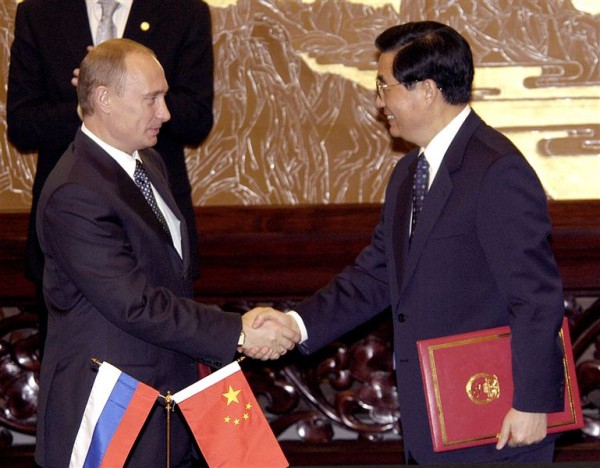 As the Obama administration continues to stumble about as if they have absolutely no idea how to conduct foreign policy, Russia and China are busy running around making deals and treaties with the rest of the world.  The United States is becoming increasingly isolated as nations around the world seem more eager than ever to reach out and deal with other major powers rather than with America.  Most serious students of Bible prophecy realize that the U.S. will experience a rapid decline in the last days, but there are times when watching it happen seems almost surreal.  Russia and China are rising.  They are quickly making friends and the influence of both superpowers is dramatically expanding.  Meanwhile, Barack Obama, Hillary Clinton and the other dunces in charge of U.S. foreign policy insist on pushing friends like Israel around while showing no ability to make friends or protect U.S. interests around the globe whatsoever.
The sad thing is that the United States is heading for a very serious confrontation with Russia and China, and the Obama administration (along with the vast majority of the American people) has absolutely no idea what is coming.
Geopolitics is not checkers. 
It is chess.
And right now, Russia and China are wiping the floor with the United States.
Just consider a few of the recent deals that Russia and China have been busy making….
*Russia has signed major arms deals with Syria under which it will sell it warplanes, anti-tank weapons and air defense systems.
*After Russian President Medvedev's historic visit in Damascus, Russia's energy minister says that his country is "studying the question" of building a nuclear power plant in Syria.
*The U.S. government says that it is carefully reviewing a Chinese decision to build two nuclear power plants in Pakistan.
*Nigeria and China have signed a tentative deal to build three oil refineries in the West African state at a cost of 23 billion dollars.
*Russian President Dmitry Medvedev says that Russia and Turkey are becoming key strategic partners.
*According to a new report, China, Iran and North Korea have established a strategic alliance that focuses on missile and nuclear technology development.
*The Russian government has agreed to a raft of new accords with the new government in Ukraine.
*South Africa's second-biggest lender, has completed its first transactions in Africa with China Construction Bank Corporation after the two agreed to cooperate last July.
*Russia had been busy selling high tech weapons to Iran.  Gary Samore, the White House coordinator for arms control, weapons of mass destruction proliferation and terrorism, says that he would be surprised if Moscow shipped the S-300 anti-aircraft system that Iran has ordered.  But that just shows how clueless the Obama administration actually is.
*A China-led consortium has sealed a deal with the Iraqi government to develop a prized cluster of three oil fields in the country's south, bringing China closer to becoming the dominant foreign player in Iraq's recovering oil sector.
Now wait a second.
I thought it was the U.S. and the U.K. that liberated Iraq.
So the Iraqi people are so grateful that they are letting China come in and be the dominant player in the Iraqi oil industry?
What in the world?
We are spending hundreds of billions of dollars to keep Iraq secure so that China can swoop in and get all the oil?
Does anyone else see something wrong here?
U.S. foreign policy is a mess.
The Obama administration is beyond clueless, and Russia and China are rapidly getting their chess pieces into position.
In a few years when things with Russia and China take an ugly turn and the U.S. is facing a major crisis with them, remember where you heard it first.
The United States should not be taking their eyes off of Russia and China.
But as long as we have complete incompetents running U.S. foreign policy things are going to continue to deteriorate.  Russia and China are more powerful than they ever have been before, and they aren't going anywhere.  It is a whole new ballgame, and the U.S. is losing.
Let us pray for our leaders, because they sure need it.