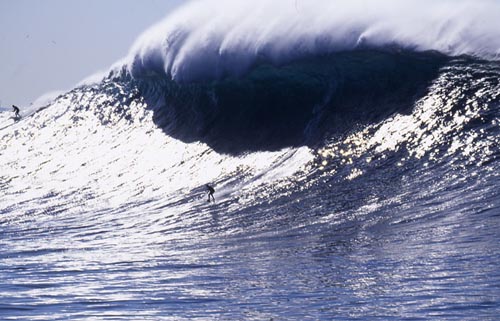 The following prophecy of a tsunami hitting the United States was given by Mena Lee Grebin…
Ok, I'm posting at a crazy hour of the night because of this…
Saints,
I was in prayer until roughly about 1:30am. I had felt a burden all during the day while I was home packing, and didn't really know why. While I was praying, I was telling the Lord how I knew that judgement would soon fall on this nation because I could feel it in my bones. After being in prayer for over an hour, I said good-night to the Lord and climbed in my bed. It seems as though I fell asleep immediately, and I went into this dream.
I was on my phone talking with a young man that is in my ministry. We were chit-chatting about someone we knew. I was walking down a street at night, and there was a dense fog covering the area. After talking for awhile, I told the young man I would catch up with him later and proceeded by getting off the phone. I crossed the street into a small park near a Walmart. I knew my kids were hanging out there and I went to go meet them. There were several other people in the park as well, and in particular, a lady with a black lab that I saw my kids were playing with. My son noticed something moving in the distance, and pointed it out for me to see. At first, I thought it was a person, but soon realized it was a deer. Shortly afterwards, several more deer appeared out of the fog. My youngest daughter was excited to see the deer and wanted to pet them. I quickly advised her not to, informing her that deer could be dangerous, especially the adult males. But I began to take note to the enormous amount of deer that was suddenly appearing out of the direction my son had pointed to. They began to run in the opposite direction all at once, and immediately, I knew they were running from danger. I called out to my kids still facing the direction that the deer were coming from. Suddenly I heard a loud crashing sound coming from the fog, and right after that I saw a wall of water headed straight our way. I could hear the screams of the people all around me. I knew it was too late to run, so I instructed my kids to all hold hands and not to let go. The wave hit us and swept us right off our feet. I could hear my daughter calling out to me. I was trying to keep my head above the raging waves. I was yelling out; "Jesus, please help us!" over and over again. We hit a bump and I realized it was a tree. We all grabbed hold of the tree and began climbing it. Within minutes the wave dissipated. My oldest daughter was ecstatic that we all made it up the tree safely. I looked below and saw other people getting up off the ground from where the waves had knocked them over and carried them quite a distance. I saw there were other people who had also grabbed on to trees and climbed them as we had. My youngest daughter then asked what had just taken place. I told her it was a tsunami. I was frantic and kept saying to myself that I saw this in a dream and that I couldn't believe it actually happened. Just then, another gush of water came in. This time it wasn't a crashing wave like the first, but a rapid of about two feet or more of water began to flood the entire area. With that, my dream ended.
When I awoke, I found that it was only 3:11am. I called my husband (who is away on business) to tell him the dream. I am now sitting up and typing this because I can't seem to shake it. I CAN'T GO BACK TO SLEEP! I wasn't even going to post this, but it's so heavy on me that I'm trembling on the inside. I know some will ask, am I afraid that I will be caught in this because of my dream. My answer is no. I know that wherever the Lord leads me, it will be His perfect will. But I also know that I am less than two weeks away from leaving the east coast, and moving back down south.
I will tell you all something else…
Within the last ten days, I have received two phone calls from people in other parts of the country who received words from the Lord regarding a cataclysm coming to this nation shortly. In addition, Dr. Rodney Howard-Browne (pastor of Revival Ministries International) said last week in one of his meeting I attended, that the Lord had burdened him to come to this part of the country and minister because of the trouble that was coming. On top of all of this, two days ago while I was on the phone with my spiritual mama (Lu Smith), I got a mysterious phone call with a local area code. When I clicked over, it was an automated message from the Emergency Broadcast Network regarding disaster preparedness. I have NEVER received a call from them EVER! My cell phone is a Charlotte area code, but these phone calls only went out to people living in the DC metro area (I found out that several other people, including my husband, received the same phone call).
One more thing…
When I did my video and radio interview about 2014, back in January, I shared about the Lord telling me that an ancient spirit from a thousand years ago would be released upon the planet this year. I shared how when I looked at what was going on a thousand years prior, one of the things I found was that there was a tsunami in the Atlantic, that was believed to be caused by a meteor.
I don't even want to believe what I'm writing. I'm not a doomsday prepper or a conspiracy theorist. In fact; I stay clear of most of that stuff; not to say that some of it isn't true, but because people get carried away and focus too much on these things, instead of focusing on their walk with Christ and leading people into the kingdom. But I cannot help who I am. I didn't ask to be a prophet, in fact I ran from my calling for many years. But this is what I've seen. I don't know when…I'm just sounding the alarm.
Something is coming…
Mena Lee Grebin
Faithful Walk Healing Ministries