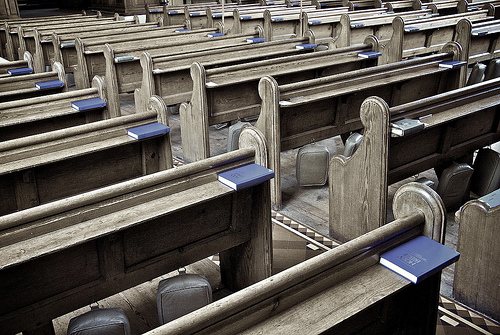 What in the world has happened to the church in America?  Today most "Christians" do not still even hold to the most basic Christian beliefs.  For example, some new data has come out that reveals that the majority of evangelicals do not believe that Jesus is the only way to God anymore.  Yes, you read that correctly.  David Campbell, the author of the new book American Grace, How Religion Divides and Unites Us, surveyed 3,000 Americans and he found that 54 percent of "evangelical Protestants" said that people from religions other than Christianity can get into heaven.
Unfortunately, this is not the only survey in recent years that has shown that a majority of evangelical Christians now believe that "Jesus is not required" to get to heaven.
For example, last year USA Today reported on a stunning survey that found that 52 percent of Christians in the United States believe that eternal life is not exclusively for those who accept Jesus Christ as their savior.
Another example of this phenomenon is a poll that was conducted by the Pew Research Center's Forum on Religion & Public Life that found that 57 percent of evangelical Christians in America believe that "many religions can lead to eternal life".
So what in the world is going on here?
There seems to be a growing consensus among evangelical Christians that all "good people" will go to heaven.
Unfortunately, this directly contradicts the Scriptures.
The Bible tells us that all have sinned and that all of us stand guilty before God.
The Bible tells us that none of us are "good" enough to make it into heaven on our own.
That is why Jesus had to come and die on the cross.
If we could just be "good people" and there were lots of ways to get to heaven, then Jesus did not need to die.  Jesus could have just pointed out a bunch of other ways to be "good enough" and then could have gone back to heaven.
But that is not what happened.
Jesus died on the cross for our sins because that was the only way our sins were going to be forgiven.
There is no way that any of us can ever be "good" enough to make it on our own.
As I wrote about in an article on another website entitled "What Does The Bible Say About Judgment?", we will all face the judgment of God one day….
The truth is that God is a God of perfect love AND of perfect justice, and according to the Bible the judgment of God is very real.

In 2 Timothy 4:1, the apostle Paul tells us that God will indeed judge us all….

In the presence of God and of Christ Jesus, who will judge the living and the dead

In 1 Peter 4:5, the apostle Peter also tells us that we will have to give an account of what we have done to God….

But they will have to give account to him who is ready to judge the living and the dead.

Romans 14:10 tells us that we will all stand before the judgment seat of God one day….

You, then, why do you judge your brother? Or why do you look down on your brother? For we will all stand before God's judgment seat.

Hebrews 13:4 explains that God will judge all those who have sinned sexually….

Marriage should be honored by all, and the marriage bed kept pure, for God will judge the adulterer and all the sexually immoral.

In Revelation 11:18 we are told that God will judge and destroy those who destroy the earth….

The nations were angry; and your wrath has come. The time has come for judging the dead, and for rewarding your servants the prophets and your saints and those who reverence your name, both small and great— and for destroying those who destroy the earth.

In Hebrews 9:27 we are instructed that we only get one life (no reincarnation) and after this life we will face the judgment of God….

Just as man is destined to die once, and after that to face judgment
But perhaps you think you are "good" enough to get into heaven on your own.
Perhaps you think that God would never send you to hell.
Well, the truth is that if any of us took an honest look at how guilty we truly are we would be horrified.
Take a moment and imagine this – one of the biggest television networks wants to do a huge 2 hour prime time special starring you.
Doesn't that sound great?
But instead of a two hour documentary about how wonderful you are, the network has discovered all of the most evil and horrible things that you have ever thought, said or did and they are going to broadcast them to millions of people all over the world for two hours during prime time.
What would you do if that happened?
That reality is that whoever that happened to would want to run away and never show their face to anyone ever again.
Why?
Because we have all done, said and thought things that are unspeakably evil.
We are sinners in the eyes of God, just as the Scriptures tell us…..
"All have sinned and fall short of the glory of God" (Romans 3:23).
Are you ready for the day when you will stand before God and be held accountable for your sins?
In John 3:36 it tells us this….
Whoever believes in the Son has eternal life, but whoever rejects the Son will not see life, for God's wrath remains on him.
Without Jesus, you will be facing the judgment of God by yourself.
In 1 John 5:11-13, we read that whoever receives Jesus as Savior and Lord will not face an eternity away from God.  God wants to give us eternal life, and it is free for whoever has the Son….
And this is the testimony: God has given us eternal life, and this life is in his Son. He who has the Son has life; he who does not have the Son of God does not have life.  I write these things to you who believe in the name of the Son of God so that you may know that you have eternal life.
Jesus died on the cross to pay the penalty for our sins, but now the majority of Christian evangelicals believe that the death of Jesus on the cross was not even necessary.
So where did all of this nonsense come from?
Well, all over the media Christians are told to be "tolerant" of other religions and that it is "bigotry" to say that your religion is the only way to God.
For example, Oprah Winfrey is teaching her millions of viewers that Jesus did not come to earth to die on the cross and that Jesus could not possibly be the only way to a relationship with God….
For much more on the emerging "Church of Oprah", please see this article: "Is Oprah A Christian?"
Any Christian that doubts that a relationship with God is only possible through Jesus should read John 14:6 where Jesus says the following….
Jesus answered, "I am the way and the truth and the life. No one comes to the Father except through me.
But not only are Christians denying salvation through Jesus Christ, they are also denying creation in record numbers.
A new Gallup poll has found that only 40 percent of Americans believe in creationism.  Gallup says that number is the lowest it has ever been since they began asking that question back in 1982.
Sadly, the truth is that America as a whole is becoming less Christian.
According to the American Religious Identification Survey by the Institute for the Study of Secularism in Society & Culture at Trinity College, the number of Americans that have "no religion" is exploding.
According to that survey, 15% of Americans now say they have "no religion" which is up from just 8% in 1990.
That would be bad enough news for evangelical Christianity.
But there is some more news from that survey that is much worse.
In that same survey, 46% of Americans between the ages of 18 to 34 indicated that they had no religion.
Just think about that.
46 percent of our young adults now say that they have no religion.
The church in America is not just in a little bit of trouble.  The truth is that the church in America is coming apart at the seams.
Those under 40 years of age are leaving the established church in droves.  The younger generations are looking for something "real" and they are not finding it in our houses of worship.  They are not finding real love, they are not finding real holiness, they are not finding real integrity, they are not finding real passion, they are not finding the power of God and they are not finding people who really live out what they believe.
The watered-down, lukewarm nonsense that passes for "evangelical Christianity" in most of our churches today is not going to get it done.  We are losing an entire generation and those running our churches are asleep at the switch.
We would all do well to heed the words of Jesus to the church of Laodicea in Revelation chapter 3….
These are the words of the Amen, the faithful and true witness, the ruler of God's creation. I know your deeds, that you are neither cold nor hot. I wish you were either one or the other! So, because you are lukewarm—neither hot nor cold—I am about to spit you out of my mouth. You say, 'I am rich; I have acquired wealth and do not need a thing.' But you do not realize that you are wretched, pitiful, poor, blind and naked. I counsel you to buy from me gold refined in the fire, so you can become rich; and white clothes to wear, so you can cover your shameful nakedness; and salve to put on your eyes, so you can see. Those whom I love I rebuke and discipline. So be earnest and repent.