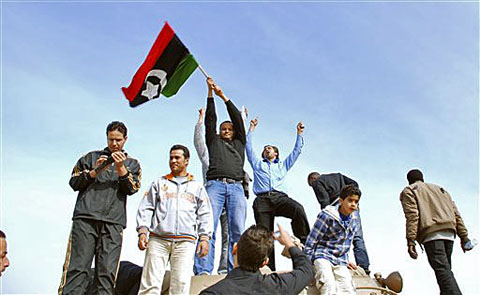 So exactly just who is NATO "helping" in Libya?  Are we actually making it possible for radical Islamic jihadists to take control of Libya?  Are we now providing air cover for some of the exact same terrorists that were shooting at our soldiers in Iraq?  You might not like the answers to those questions.  Nobody is claiming that Gadhafi is not a horrible dictator and tyrant.  However, is it really in our interest to have al-Qaeda and the Muslim Brotherhood replace him?  The Scriptures tell us in the book of Ezekiel that in the last days the nation of Libya will come against Israel.  Are we making this possible by injecting ourselves into the middle of this civil war?
The mainstream media has been pushing this war really hard, and it is really easy for most Americans to simply trust the judgment of the news channels, but there are some really hard questions that we need to ask about our involvement in Libya.
For example, what in the world is Libya going to look like after all this is over?
Is it going to take a hard turn towards radical Islam and end up being ruled by the Muslim Brotherhood and/or al-Qaeda?
According to The Telegraph, the leader of the Libyan rebels is even admitting that his "troops" include jihadists that were firing bullets at U.S. troops in Iraq….
Abdel-Hakim al-Hasidi, the Libyan rebel leader, has said jihadists who fought against allied troops in Iraq are on the front lines of the battle against Muammar Gaddafi's regime.
What type of government do you think they are going to set up once this is over?
The American people need to start demanding some answers.
Why are we on the side of al-Qaeda in Libya but against them in Iraq and Afghanistan?
CBS News recently quoted former CIA officer Bruce Riedel as saying the following….
"There is no question that al Qaeda's Libyan franchise, Libyan Islamic Fighting Group, is a part of the opposition. It has always been Qaddafi's biggest enemy and its stronghold is Benghazi. What is unclear is how much of the opposition is al Qaeda/Libyan Islamic Fighting Group – 2 percent or 80 percent."
Shouldn't we have learned more about who we are supporting before we jumped in?
Are we actually using our military to support the spread of radical Islam in north Africa?
According to Webster Tarpley, a study conducted at West Point found that Libya has one of the highest concentrations of jihadists on the planet….
The most striking finding which emerges from the West Point study is that the corridor which goes from Benghazi to Tobruk, passing through the city of Darnah (also transliterated as Derna) them represents one of the greatest concentrations of jihadi terrorists to be found anywhere in the world, and by some measures can be regarded as the leading source of suicide bombers anywhere on the planet. Darnah, with one terrorist fighter sent into Iraq to kill Americans for every 1,000 to 1,500 persons of population, emerges as suicide bomber heaven, easily surpassing the closest competitor, which was Riyad, Saudi Arabia.
The more one examines the situation in Libya, the better Gadhafi looks.  The truth is that these "rebels" are not fighting Gadhafi because they want a western-style democracy.  Rather, they are fighting him because they want to set up a radical Islamic jihadist state.
The truth is that NATO knows precisely who they are arming and who they are helping take power in Libya.  As Steve Watson recently noted, there are reports that there are 1000 (or more) al-Qaeda fighters among the rebels in Libya….
A former leader of an al Qaeda linked group in Libya claims that there are around 1000 fundamentalist Islamic fighters in the country that have joined the uprising against Col. Moammar Gaddafi's forces, a number that jives with intelligence reports and independent estimates.
How in the world is America going to be better off with al-Qaeda and the Muslim Brotherhood in control of Libya?
None of this makes any sense.
We are told that we have to have our soldiers in Afghanistan and Iraq for years and years in order to "fight al-Qaeda" and then we are helping them take power in Libya?
What in the world is going on out there?
We are living in the last days and weird things are going to happen.
So what do all of you think about what is happening in Libya?  Please feel free to leave a comment with your opinion below….