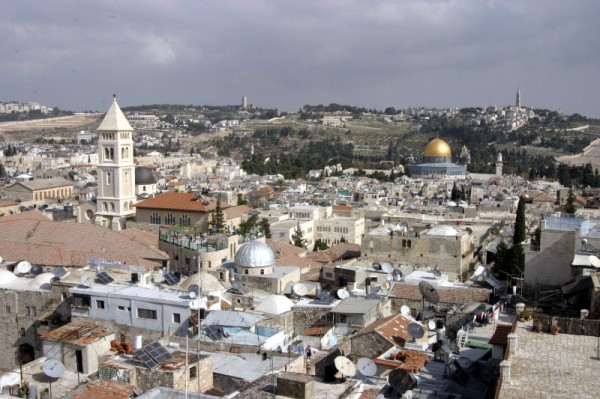 Today we have an excellent guest post from Alisha Venetis.  Alisha Venetis is co-founder of www.thePrepRoom.net; an online store specializing in emergency preparedness supplies.  She writes for Smart Girl Nation, as well as other conservative blogs, where she reports on world politics, domestic and global economics and the potentially negative ramifications they may have on America.
The Birth of a Nation
On May 14, 1948, the nation of Israel was born out of the ashes of the Holocaust. A day later, they were attacked by Egypt, Lebanon, Syria, and Iraq. Having had very little time, weaponry and man-power, the Israeli Defense Forces (IDF) quickly trained their civilian men and women for combat, something still done today.   Miraculously, Israel managed to survive with some last minute aid by the U.S. This was the first time Israel was attacked as a Nation but certainly not their last.
I mean really, what's the appeal for these other Middle Eastern countries? Israel is the size of Rhode Island compared to the whole United States. It is the 100th smallest country, with less than 1/1000th of the world's population and  80% of Israel's land is desert. Golda Meir, the former Israeli prime minister, used to joke that Israel was the only place in the Middle East without oil.  So what could this country possibly bring to the table?
Why Size Doesn't Matter
What this small country has accomplished in sixty-four short years is nothing short of a miracle. This tiny county, which has been called a technological power house by Bill Gates, leads the rest of the globe in many areas.  Consider the following;
Technology
Motorola developed the first cell phone in Israel.
A coding for a chip that allows laptop computers to function, voicemail and technology for AOL Instant Messenger was developed in Israel.
Israel has the highest concentration of hi-tech companies in the world, apart from Silicon Valley in California.
Israel has designed the airlines industry's most impressive flight security system. Their security is so strict the US consults with Israel often on how to handle its security threats. Israel has been linked to the "ground breaking" cyber attack on Iran's nuclear reactor. This cyber attack is believed to set back Iran's nuclear capabilities by about three years.
Israel has one if the best trained and powerful military's in the world.
It is rumored that U.S. military experts don't even study Israel's wars because Israel's winning outcomes are too improbable. Let's keep in mind they are also spending more per capita on her protection than any other country on earth.
Women's Roles and Entrepreneurship
When Golda Meir was elected Prime Minister of Israel in 1969; she became the world's second elected female leader in modern times (even as Israel is surrounded by some countries who consider women lower than animals).
Israel has the third highest rate of entrepreneurship, and the highest rate among people over 55 and among women. Israelis invented a hydrogen car that uses just a tank of water.
Israel is one of the largest exporters of fresh produce and flowers in the world, despite the fact that about 80% of Israel's land is desert.  Israel has defied agricultural odds.
The USA would not be as medically advanced if it were not for Israeli advancements.  Israeli scientists developed the first non-radiation computerized test for breast cancer.
An Israeli company developed a computerized system for ensuring proper administration of medications, thus removing human error from the dipension of medicine and potentially saving thousands of lives per year.
An Israeli company developed the first ingestible video camera. This camera is so small it fits inside a pill and helps doctors diagnose cancer and other digestive disorders.
Israeli stem-cell technology is being used in the U.S. to regenerate heart tissue.
Teva is one of the world's largest pharmaceutical companies and a major producer of generic drugs.
USA Ally and Humanitarian
When the U. S. Embassy in Kenya was bombed in 1998, Israeli rescue teams were on the scene within a day to help save some of the victims. Israel was the first nation in the world to adopt the Kimberly process, an international standard that certifies diamonds as "conflict free."
Hebrew (the official language of Israel) is the only dead language that has been revived after 2,000 years.
The truth is almost every nation cares about Israel for one reason or another?  Unfortunately for Israel it is not to see them flourish.  Many times Israel tries to assert its sovereignty or security.  These moves are often met with rockets and bombs being launched into its country from a neighboring country, or a negative PR onslaught by the UN and other news outlets.
Today, Israel is surrounded by at least 27 Islamic countries, many of whom would like to see Israel literally wiped off the map. In fact, many Islamic maps do not even show Israel, as these Nations believe Israel does not have a right to exist. They continue to "poke the bear" and soon the bear may have had enough.
Just recently an Israeli family was slaughtered to death by Palestinians over the controversy of where Israel is building communities or "settling".  Israel could not do much as the Palestinians cheered and passed out sweets in celebration of these horrific murders.
Is Israel without mistakes?  Absolutely not. Just like America there are many discussions that can be had as to how we and Israel can be better. However to some Islamic countries, (particularly Iran) Israel is viewed as the little Satan and America as the big Satan.  If any country decides to take down Israel, I hope the U.S. does not think we couldn't be next. As Winston Churchill once said "an appeaser is one who feeds a crocodile, hoping it will eat him last". [Soft Break]
Some believe that, in the end of times, only God will come to the rescue of Israel and that all other nations, including the USA, will forsake her. As the US helps overthrow the governments in Egypt, Libya and Yemen, there are terrorist organizations like the Muslim Brotherhood, Hezbollah, Hamas and Al Qaeda in the shadows ready to step up with one goal in mind, wipe Israel off the map. One must wonder if we already have forsaken Israel? God help us if we have.
To them who are good to you (Israel) will I give blessing, and on him who does you wrong will I put my curse: and you will become a name of blessing to all the families of the earth.

Genesis 12:3.
Alisha Venetis is co-founder of www.thePrepRoom.net; an online store specializing in emergency preparedness supplies.  She writes for Smart Girl Nation, as well as other conservative blogs, where she reports on world politics, domestic and global economics and the potentially negative ramifications they may have on America.