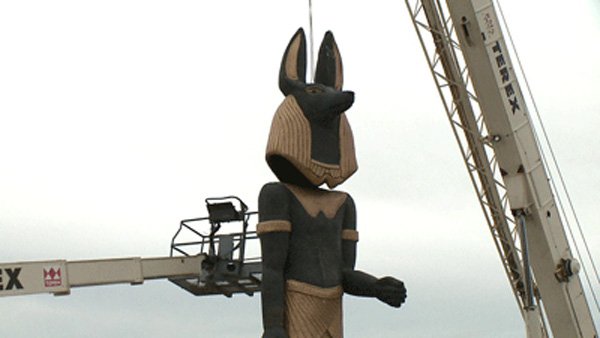 What is with all of the giant pagan idols that are suddenly popping up all over the United States?  The latest example of this is a seven ton, 26 foot tall concrete sculpture of an Egyptian god that is being installed at Denver International Airport.  The giant statue being constructed at the south end of the DIA terminal is of Anubis – the Egyptian god of death and the afterlife.  So why is this being done?  Well, it is apparently being put there to advertise the Denver Art Museum's King Tut exhibit that is about to open up.  That exhibit will go from June 29th through January 9th, 2011.  The plan is for "Anubis" to remain in place at Denver International Airport the entire duration of the exhibit. 
But this is not just an isolated incident.  Suddenly it has become "trendy" to set up giant statues of pagan gods.  We recently reported on a 26 foot tall Buddha weighing almost fifteen tons that has been installed across the street from the city hall of San Francisco and that will remain there through 2011.
Most people would say that these statues are just "art" and that they are perfectly harmless.
In fact, most Christians would insist that there is nothing wrong with these statues.
But what does God think about all of this?
The truth is that idolatry is loudly denounced by God throughout the Scriptures.  In fact, according to the Bible, it does not matter what "significance" one places on an idol.  What matters is that God wants no idols to ever be set up.
In fact, we are told in Revelation 9:20 that there will still be widespread idolatry in the last days….
The rest of mankind that were not killed by these plagues still did not repent of the work of their hands; they did not stop worshiping demons, and idols of gold, silver, bronze, stone and wood—idols that cannot see or hear or walk.
We just can't resist setting up idols, can we?
After all of God's warnings we just have got to tempt fate.
So now the hundreds of thousands of people who visit Denver International Airport will have one more thing to creep them out.
The weirdest airport in America just got a little weirder.