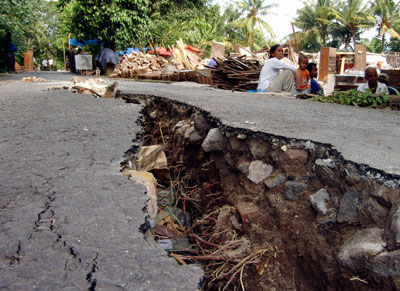 "And great earthquakes shall be in divers places, and famines, and pestilences; and fearful sights and great signs shall there be from heaven."
-Luke 21:11
The 7.0 magnitude earthquake that has essentially destroyed the nation of Haiti has refocused attention on the prophecies about earthquakes in the last days that we find in the Scriptures.  Yahshua (Jesus) told us that we would see an increase in earthquakes as we approached His coming and that this would be a clear sign that the end times was at hand.  Could the unusual shaking that we are currently seeing around the world be an indication that we are approaching the time prophesied almost 2000 years ago?
You see, unfortunately the Haiti earthquake is not an isolated incident.  2010 is already a banner year for major earthquakes.
For example, a 6.3 magnitude earthquake shook the ocean floor between South America and Antarctica on Sunday.
A magnitude 6.0 earthquake hit Guatemala's Pacific coast near the border with El Salvador on Monday, but fortunately it did not do much damage.
There have already been five magnitude 6.0 or greater earthquakes in the area of the Solomon Islands in the Pacific Ocean so far in 2010.
The annual average of worldwide earthquakes measuring 6.0 or greater is 152.  If the current pace continues, we will see 260 in 2010.
The earth is shaking my friends.
But aren't we safe from such things in most areas of the United States?
Well, no.
U.S. scientists are predicting that a Haiti-magnitude earthquake will strike along the New Madrid fault in the U.S. some time during the next 50 years.
In 1811, an earthquake along the New Madrid fault was so powerful that it "shook windows and furniture in Washington, D.C., rang bells in Richmond, Virginia, sloshed well water and shook houses in Charleston, South Carolina, and knocked plaster off of houses in Columbia, South Carolina."
At that time the area of the New Madrid fault was not heavily populated, so the damage was somewhat minimized.  But if a true "killer quake" were to strike along the New Madrid fault now, it could devastate an area all the way from Chicago down to the mouth of the Mississippi River.
But the New Madrid fault is not the only area of the U.S. that is a concern.
The truth is that residents of California live in perpetual anticipation of a major earthquake, and a flurry of recent earthquake activity all over that state is raising concerns that California could be the next spot to be hit by the Big One. 
In fact, a very large number of small earthquakes have been reported all over the state of California in the last 7 days.
So will California be hit by a "killer quake" any time soon?
Let's hope not.
But scientists are essentially guaranteeing that one will hit that state during our lifetimes.
The Los Angeles Times recently reported on the "Uniform California Earthquake Rupture Forecast" which was released in 2007.  That report says that California has a 99.7% chance of a 6.7 magnitude earthquake within 30 years.
A 99.7 percent chance?
Ouch.
While most buildings in California would survive a 7.0 earthquake better than most buildings in Haiti did, the truth is that California may eventually see a killer earthquake that is far, far more powerful than the one that Haiti just witnessed.
In fact, there are those who theorize that a truly massive quake could permanently alter the geography of California.
Seriously.
And if we are to take the words of Yahshua (Jesus) seriously (and we should), then we are only going to see an increase in the frequency and severity of global earthquakes from here on out.
So get ready.
A shaking is coming.