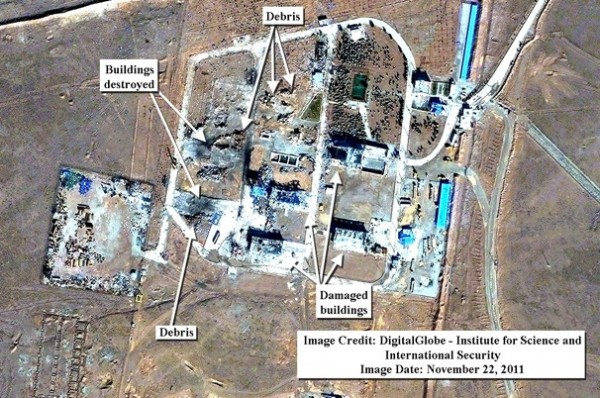 What in the world is happening over in Iran?  All of a sudden we are hearing of a lot of "mysterious explosions" at nuclear facilities and at important missile sites.  Also, in recent months quite a few Iranian nuclear scientists have been mysteriously killed.  Is someone conducting a covert campaign to take out Iran's nuclear program?  Without a doubt, open warfare with Iran would have very serious consequences and could even end up sparking World War III.  If war can be avoided, that would seem to be preferable.  So is someone secretly bombing key installations in Iran in attempt to delay or even derail their nuclear program?  Unfortunately we will not get answers to those questions any time soon, but it does appear that something really strange is going on.
One of the most recent incidents happened near the Iranian city of Malard.  A photo has been released that clearly shows that a key Iranian missile base near Malard has been essentially destroyed.
This was detailed in a recent article in the Washington Post….
Two weeks after a mysterious explosion at an Iranian missile base, a Washington-based research group has released a satellite image showing extensive damage to the site.

The image of the compound, near the city of Malard, doesn't provide any clues as to what caused the Nov. 12 explosion, which Iranian authorities described as an "accident" involving the transport of ammunition. But it does make clear that the facility has been effectively destroyed.
Could an "ammunition accident" really cause the kind of extensive damage shown in the photo?
That seems very, very far-fetched.
Just recently, another strange explosion happened somewhere around the Iranian city of Isfahan.  It turns out that a key Iranian nuclear facility is located in Isfahan.  The following description of this incident comes from an article in Haaretz….
An explosion rocked the western Iranian city of Isfahan on Monday, the semi-official Fars news agency reported, adding that the blast was heard in several parts of the city.

According to reports, frightened residents called the fire department after the blast, forcing the city authorities to admit there had been an explosion. Residents reported that their windows shook from the explosion's force.
Authorities in Iran are blaming that blast on a "military drill".
You never know, the authorities in Iran might be telling the truth.
But lately there has been a pattern developing in Iran that has become very hard to deny.
Over the past few years, quite a few Iranian nuclear scientists have been mysteriously killed.
The following comes from an ABC News article entitled "Who Is Killing Iran's Nuclear Scientists?"….
Regardless of who is killing Iran's nuclear scientists — the Israelis, the Americans or the Iranians themselves — there's no question that researchers and officials linked to Iran's alleged nuclear weapons program keep turning up dead.

Since 2007, four different scientists allegedly associated with the nation's nuclear weapons program have died via bomb, gunshot or poisoning, while a fifth barely survived a car bombing.

The most recent victim, 35-year-old Darioush Rezaeinejad, was shot in the neck outside his daughter's Tehran kindergarten on Saturday by two gunmen on a motorcycle. According to an unconfirmed report in an Israeli intelligence publication, Rezaeinejad was working on a nuclear detonator, and was seen daily at a nuclear lab in northern Tehran.
If you believe that all of the events detailed above are just "bizarre coincidences", then you are being quite naive.
Someone is taking aggressive action inside Iran, but it might not be enough to avert a war.
The truth is that tensions between Iran and western powers are rapidly escalating.  On Tuesday, Iranian students stormed two British Embassy compounds in Tehran.  The following description of this event comes from a Reuters article….
Iranian protesters stormed two British Embassy compounds in Tehran Tuesday, smashing windows, hurling petrol bombs and burning the British flag during a rally to protest against sanctions imposed by Britain, live Iranian television showed.

The attacks followed the rapid approval by Iran's Guardian Council of a parliamentary bill compelling the government to expel the British ambassador in retaliation for the sanctions, and warnings from a lawmaker that angry Iranians could storm the British embassy as they did to the U.S. mission in 1979.
Does this remind you of anything?
The truth is that this is chillingly similar to what happened to the U.S. Embassy back in 1979.
A video news report about the storming of the British Embassy is posted below….
Needless to say, the British government is quite alarmed about all of this.  UK Foreign Secretary William Hague is promising that there will be "serious consequences" stemming from this incident.  The following is a short excerpt from a recent article in the Guardian….
Hundreds of protesters surged onto two compounds this afternoon, putting the safety of staff at risk and causing "extensive damage" to property, the foreign secretary said.

"Clearly there will be other, further, and serious consequences. I will make a statement updating parliament on this tomorrow [Wednesday]."
Hopefully cooler heads will prevail, but what seems very clear is that the region is closer to war than it has been in a long time.
On Sunday, Iranian Brigadier General Ahmad Vahidi promised that Iran would launch 150,000 missiles at Israel if a military attack on Iran happens.
As tensions have risen over the past few years, Iran has armed itself to the teeth.
Any military conflict with Iran would not be pretty.
But peace will not last forever.  Israel simply will not allow Iran to develop a nuclear program and Iran is absolutely determined to proceed with developing one.
And as I have written about previously, Iranian President Mahmoud Ahmadinejad actually believes that a war with Israel is necessary before the Mahdi will return.
We live in very unusual times.
As we get even deeper into the times that the Bible refers to as "the last days", it is inevitable that there will be more war in the Middle East.
In the years ahead, there will be some incredibly bloody conflicts and the loss of life will be staggering.
Let us pray for peace, and let us pray that as many people as possible can be exposed to the gospel while there is still time.