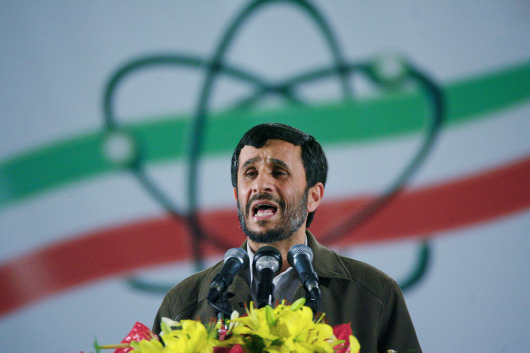 Iran is reportedly close to reaching a deal to clandestinely import 1,350 tons of purified uranium ore from Kazakhstan.  This deal would be in direct defiance of U.N. Security Council sanctions.  Reports also indicate that Iran is willing to pay approximately 450 million dollars for the shipment.  The price for the shipment was apparently so high because of the need to keep the deal secret and because of the risk that the world community would find out about it.  But now the world community has found out about it.  
So why is Iran willing to defy United Nations sanctions to get their hands on more uranium?
Well, the truth is that Iran is probably running out of it and needs more uranium in order to continue their nuclear program at the same pace.
This comes at a time when Iranian President Mahmoud Ahmadinejad has dismissed a year end deadline set by the Obama administration and the West for Iran to accept a UN-drafted deal to swap enriched uranium for nuclear fuel.
The United States and the other permanent members of the United Nations Security Council have threatened Iran with new sanctions if it did not accept a compromise deal by the end of this year.
According to the plan brokered in October by the International Atomic Energy Agency, Iran is supposed to export low-enriched uranium to Russia and France which would conduct further enrichment for them.
But Iran has publicly announced that they intend to do the additional enrichment themselves.
Meanwhile, a maverick Iraqi politician is warning that Iran could "go nuclear" within weeks.
In an interview earlier this month, Iraqi parliamentarian Mithal al-Alusi made the following statements….
"We are receiving information which says Iran is so close to producing an atom bomb."
"All the international community, they don't realize how close [the Iranians] are to the goal… The Iranians will surprise us one day [soon] and say, 'We have it.'"
Those are sobering statements.
Especially when you consider the implications.
The truth is that Israel simply cannot allow Iran to have nuclear weapons.
The Israeli government is keeping a close eye on the situation in Iran and realizes that they cannot allow Iran to proceed with their nuclear ambitions forever.
In fact, Israeli Deputy Foreign Minister Daniel Ayalon said recently that the year 2010 will be a decisive year for Iran and its nuclear plan.
A decisive year?
Could that mean war in 2010 or 2011?
What would happen if Israel did strike Iran's nuclear program?
Well, according to one new report, Iran would launch a counterattack on Israel and on all U.S. bases in the Gulf region if Israel does strike Iran's nuclear facilities.
If Iran did that, it could spark a massive war that could engulf the entire Middle East.  The consequences of such a war would be mind boggling.
But before resorting to a military strike, it is likely that the governments of the West will continue to try to promote an internal revolution in Iran.  Changing the regime in that manner would be a lot "easier" for Western nations than a full scale war.  However, the prospects for a successful internal revolution in Iran at this point seem dim at best.
What does seem clear at this point is that Bible prophecy will continue to be fulfilled in 2010.  We are truly living in the last days, and there are times when it will be absolutely terrifying, but who wouldn't want to live during one of the most exciting times in all of human history?