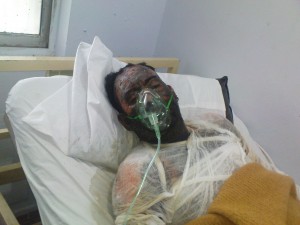 The persecution of Christians in Pakistan is becoming very brutal and very deadly.  The truth is that it is no longer safe to be a Christian in Pakistan anymore.  A Christian man in Pakistan's Punjab province is literally fighting for his life after radical Muslim leaders, backed by police, burned him alive for refusing to convert to Islam while his wife was raped by police officers.  This incident, which took place on March 19th, is just the latest in a series of deadly attacks on Christians in Pakistan.
The name of the man is Arshed Masih, and according to reports Islamic radicals tried to burn him alive right in front of a police station in the city of Rawalpindi.
So did the police do anything to protect the Christian man?
No, the police were too busy raping his wife.
Now 80 percent of his body is burned and he is struggling to stay alive.
One of the saddest things is that their 3 children (ranging in age from 7 to 12) were reportedly forced to watch the attacks on their parents.
So how did this all come about?
Well, it is alleged that in January Islamic leaders in the area asked Arshed to convert to Islam with his whole family.  
After Arshed refused their request, the group of Islamic leaders reportedly threatened him with "dire consequences".
Apparently they were quite serious.
But this is just the latest in a serious of vicious attacks on Christians in Pakistan recently.
For example, a World Vision office in Pakistan was attacked by Islamic gunmen recently, leaving at least five staff members dead.
Another example made world headlines a while back.  A Christian couple in Pakistan was sentenced to 25 years in prison for touching the Quran without properly washing their hands first.
Radical Muslims in Pakistan are quite serious about their desire to eradicate Christianity from their land.  Their Scriptures call for all infidels to either convert or to perish.  Pakistan is not a safe place for Christians any longer, and it most likely will not be ever again until Yahshua (Jesus) returns.
But Yahshua (Jesus) told us that there would be tremendous persecution of His followers in the last days.  In Matthew 24:9-14 it tells us this….
"Then you will be handed over to be persecuted and put to death, and you will be hated by all nations because of me. At that time many will turn away from the faith and will betray and hate each other, and many false prophets will appear and deceive many people. Because of the increase of wickedness, the love of most will grow cold, but he who stands firm to the end will be saved. And this gospel of the kingdom will be preached in the whole world as a testimony to all nations, and then the end will come."
The reality is that the persecution of the last days is only just beginning.  Millions more Christians will be tortured and millions more will be killed before all of this is over.
Are you ready to give your life for the Messiah?
There may come a day when someone will kill you if you do not deny your faith.
Now is the time to decide what you will do when faced with that choice and now is the time to get yourself mentally prepared for what is coming.