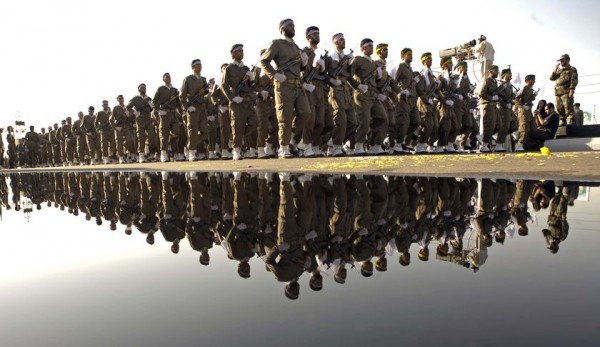 When it comes to geopolitics, it is much more important to watch what the various players do rather than listen to what they say.  This is especially true in the Middle East.  While many leaders in the region are saying all the "right" things, the reality is that there are indications that all sides are preparing for war.  In fact, there are signs that war in the Middle East may be imminent.  The reality is that Israel is simply not going to let Iran continue with their nuclear program forever, and Iran is showing no indications that they plan to discontinue it.  So a showdown is inevitable at this point.  Tensions are rising and preparations are ramping up. 
The following are ten recent signs that war in the Middle East is getting closer than ever…. 
#1) On Tuesday, Israel began distributing millions of protection kits against biochemical warfare.
#2) The Tel Aviv municipality has unveiled a massive new public bomb shelter built directly under the new Habima Theater.
#3) According to a senior PA negotiator and sources in the Israeli government, the U.S. has actually been conducting negotiations with Israel on behalf of the Palestinian Authority.  Since when did the U.S. government become the representative of the Palestinians?  Things have gotten really weird since Barack Obama got in the White House.
#4) In recent weeks the Obama administration has stepped up its monitoring of Jewish construction projects in eastern Jerusalem.  In fact, if anyone picks up a hammer in east Jerusalem these days the Obama administration flies into a tizzy.
#5) The Obama administration is now rejecting all visa requests from all Israeli nuclear scientists who work on Israel's nuclear reactor in Dimona and is now imposing severe restrictions on Israel with regard to the purchase of nuclear-related products.  Wait a second – isn't Israel supposed to be our friend?
#6) Israeli Prime Minister Benjamin Netanyahu has cancelled a planned trip to Washington next week for Barack Obama's 47 country nuclear security conference.  So why did he cancel his trip?  Perhaps #5 was a big reason.
#7) Iranian President Mahmoud Ahmadinejad is claiming that Israel plans to start a war this upcoming Spring or Summer, and that this will be a chance for the surrounding nations to "finish" Israel.
#8) A senior cleric within Iran's elite Revolutionary Guard has reiterated warnings that Tehran would strike Tel Aviv immediately if Israel and its Western allies attacked Iran.
#9) Iran's Defense Minister Brigadier General Ahmad Vahidi says that "no trace of Israel will remain" if Iran is attacked.
#10) Palestinian Authority Prime Minister Salam Fayyad is promising that the Palestinian people will celebrate the Holy Fire vigil next year in the "true Palestinian capital" of Jerusalem.
If you listen to the major Islamic leaders in the region, it sounds like they are very much looking forward to war.  That may seem strange to those of us with a western mindset, but you have to realize that these Islamic leaders have had the "glory of jihad" pounded into their heads since they were knee-high to a grasshopper (as they say in the South).
The radical Muslims in the region are thirsting for a war with Israel, and Israel cannot allow Iran to continue developing a nuclear program indefinitely. 
Trouble is on the horizon.
The Obama administration is totally inept and seems to be becoming increasingly anti-Israel.
Now is the time to be praying for Israel and for the peace of Jerusalem.